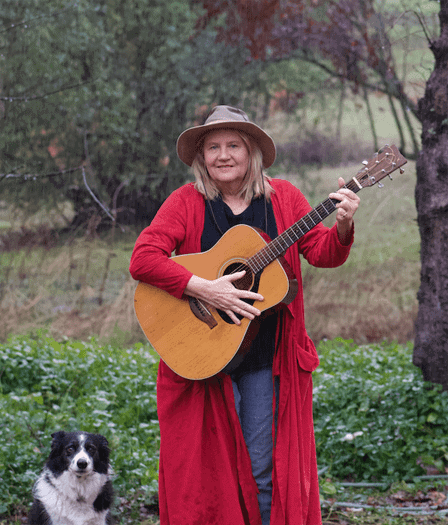 Poet-Songwriter Sara Hoxie Shares Her Catchy Tunes at ThinkingFunny21
So, you want an easy explanation, a label to pin on Sara? Good luck with that! Her many talents and interests make it impossible to put her in a box. That's one of the many wonderful things about her.
Sara is a published poet, songwriter, and the author author of three chapbooks: Thus Saith Dog, Pond and Sky, and Above Pomponio in Winter.
She also has released two CD's featuring her performance of original compositions, Waterfall Boy and For the Time We're Here.
Her story can be an inspiration to those of us who feel we've waiting too late to get started. Sara did not start her music career until she was 50 years old. But she is, as her friends attest, an "old soul" that can make you laugh, make you cry, may you think, and, honestly, just make you glad you're alive.
If you ever get the chance, you simply must catch her in performance. Check out her website, www.sarahoxie.com, for the latest information on her doings.
Sara writes and performs in Northern California where she has lived most of her life. Her style is difficult to pin down. Some of it reflects the beauty of Northern California and its inhabitants, some is philosophical, and some is what she calls adult nonsense songs. Her songs are catchy, and easy to sing. "I have nothing to do with any of this," she says, "these just come through me, it's what I channel".
We at ThinkingFunny.com, are eagerly anticipating her contribution to the songwriters' panel at ThinkingFunny21, April 3, 2021. You can see the entire lineup by clicking here.