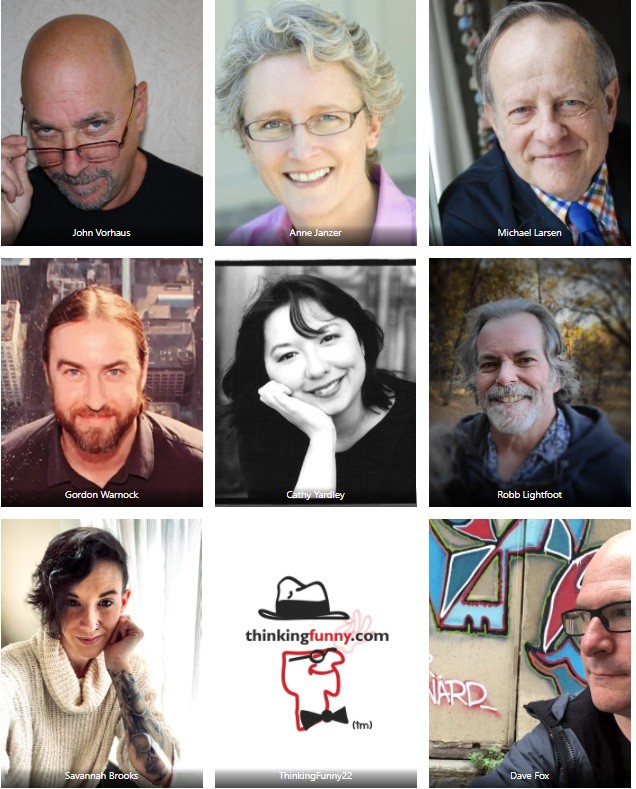 Talent Lineup – ThinkingFunny22
We're proud to offer a strong lineup of industry professionals and experienced authors, coaches, and practitioners.
The day-long event begins at 10:00 am Pacific time and runs through an after-party from 5-6 pm. Click here to register. The fee is $75 for the live event and one-year access to the sessions' recordings.
This year's conference will focus on humor-writing and offers six, 50-minute sessions.
Saturday 4/2/22 all times Pacific/San Francisco
10:00 – 10:30 am – Host Robb Lightfoot opens the event with greetings, a brief overview of CrowdCast how-tos, and introductions/announcements.
10:30-11:20 am – Novelist and writing-coach Cathy Yardley will start the conference by looking at how to break through writing blocks and improve your productivity. She's the author of more than 17 novels and the Rock Your Writing series.
11:35-12:25 pm – Multi-talented author and practicing writer Anne Janzer will take a look at how to use humor in serious, non-fiction subjects.
12:25-12:55 pm – Lunch
12:55-1:45 pm – John Vorhaus shares sure-fire comic tools drawn from his legendary book, The Comic Toolbox. His presentations are entertaining and full of actionable advice.
1:55-2:45 pm – Vorhaus returns with to reveal his process on crafting comedic characters that light up the page and the stage. He shows us the differences between characters in comedy movies and sitcoms.
2:45-3 pm – Break
3-50 pm – Dave Fox offers believes that you're funnier than you think. You can find and write about humor in your daily life. Fox says that humor is lurking all around us, but it can be stealthy. His session examines how to turn non-funny moments in your life into hilarious stories and how to punch up stories to make them funnier. His techniques apply to columns, personal essays, memoirs, or even sketch comedy.
4:05-4:55 pm – Three agents tell us what it takes to break into print. Our panel consists of experienced agents with diverse backgrounds. We'll hear from Savannah Brooks, Michael Larsen, and Gordon Warnock explaining the dos and don'ts of approaching an agent. This session is designed to help authors refine their book proposals, elevator pitches, as well as offering ideas for how to get your articles, stories, and books into print.
5:15-6:30 pm – Afterparty! – Zoom link provided to attendees. After this, you're welcome to hang with your fellow writers.
Registrations are first-come, first serve. If you elect to attend both days, you'll be emailed a link and a discount code for the Sunday masterclass after we confirm your Saturday Conference registration. Click here to register for the Saturday Conference.
Click here to see the Sunday, April 3, 2022 Masterclass schedule.